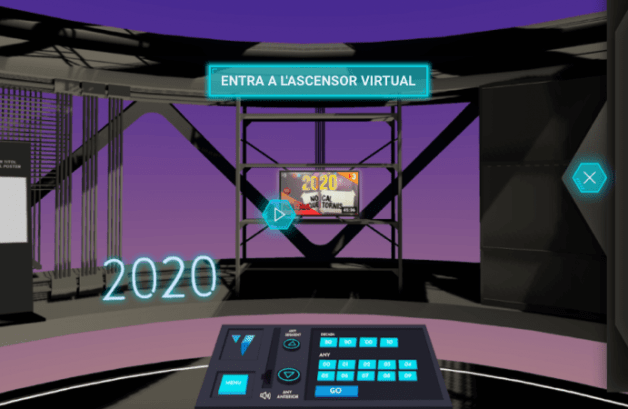 Journey through the history of TV3 thanks to Computer Vision
Can you imagine having a time machine and being able to travel through the history of television? The ViVIM (Computer Vision for Multi-Platform Immersive Video) project, with the participation of the Computer Vision Center (CVC), has developed an immersive tool that allows a unique experience: to travel in a virtual elevator that transport users to the most iconic moments in the history of TV3.
This virtual elevator can travel from 1983 to 2020, being each floor a different year. Once the user selects a year, the elevator brings him/her immediately to the concrete floor, where the user can watch the most emblematic shows and broadcasts of TV3 in that particular year. This experience is an innovative way to travel through the history of TV3, since its launch in 1983 from nowadays, bringing back memories of such iconic moments as the channel's kick-off, the first broadcast of a Barça's match, the most important events and news of each year in different fields (politics, culture, international, sports and society) or the most relevant programs of the channel.
Personalizing audiovisual experiences
The TV3 elevator is one of the prototypes developed within the project ViVIM but the initiative aims to go further. VIVIM seeks to develop new audiovisual formats based on omnidirectional video that offers end-users a coherent audiovisual experience on virtual reality devices, tablets and traditional televisions. It includes production tools for immersive screens, support for omnidirectional cameras and access to content in a synchronised way, both using virtual reality devices (head-mounted displays, HMDs), tablets and conventional television.
It is also focused on providing more dynamic experiences in response to audience needs in terms of length, interest, location, preferences, lifestyle and age, and more interactive and immersive content, building environments that offer the audience an enhanced experience in both virtual reality and 360º cinema.
The ViVIM project is a Catalan initiative, funded by ACCIÓ, within the action plan of the Ris3CAT Media Community promoted by the Generalitat de Catalunya, and its consortium is formed by I2CAT, which coordinates the project, the CVC, the Catalan Audiovisual Media Corporation (CCMA), Vysion and Eurecat.
The TV3 elevator immersive experience is available at this link: https://projecte-vivim.ccma.cat/