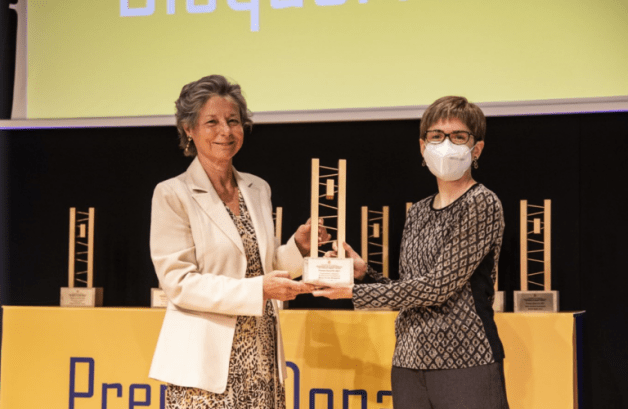 Dr. Alicia Fornés, winner of the "Academic/ Researcher" prize in the Dona TIC Awards 2021
The CVC researcher, Dr. Alicia Fornés received the Dona TIC award in the Academic/Researcher category. The awards ceremony, which is celebrated annually in commemoration of the Ada Lovelace Day, was held on October 13th at CosmoCaixa Barcelona and broadcasted on Youtube.
The Dona TIC awards, which are boosted by the Department of the Vice-Presidency, Digital Policies and Territory of the Government of Catalonia, have the dual purpose of recognizing and disseminating the role and talent of women and offering references to girls to encourage them to pursue STEM disciplines (science, technology, engineering and mathematics) and to assume leadership positions in the sector. The ceremony was chaired by the Vice President and Minister of Digital Policies and Territory, Jordi Puigneró, and organized with the collaboration of the Catalan Women's Institute, the Barcelona Chamber of Commerce's Women, Business and Economy Observatory the Tertúlia Digital association.
In this edition, out of 80 nominations submitted, 8 women and 2 initiatives were awarded in 10 different categories. In the case of Dr. Alicia Fornés, she received the prize in the category Academic/Researcher, which recognizes the trajectory of women devoted to training and / or research in the field of ICT.
Dr. Alicia Fornés is PhD in Computer Science and Senior Research Fellow at the Computer Vision Center and the Autonomous University of Barcelona. She has more than 100 publications in international conferences and journals and she has led numerous national and international research projects, with the aim of improving the automatic recognition of textual and graphic manuscripts, contributing to the preservation and dissemination of historical and cultural heritage. She is currently promoting the creation of the "Catalonia Time Machine" which aims to create a computer simulator to visualize thousands of years of Catalan history. On the other hand, her research activity also focuses on the application of ICT in the field of health. She also carries out activities to encourage STEM vocations among young people.
The Dona TIC Award recognizes Dr. Fornés' outstanding contributions to the areas of computer vision and digital humanities. During her speech at the awards ceremony, Dr. Alicia Fornés encouraged girls who are interested in ICTs to choose this path and fight to increase the presence of women in this field. "The journey is difficult but the ICTs really deserve the effort", concluded Dr. Fornés.
Congratulations Alicia for this well-deserved recognition!
More information about the Dona TIC Awards: https://politiquesdigitals.gencat.cat/ca/tic/premisdonatic/
Watch the awards ceremony again: