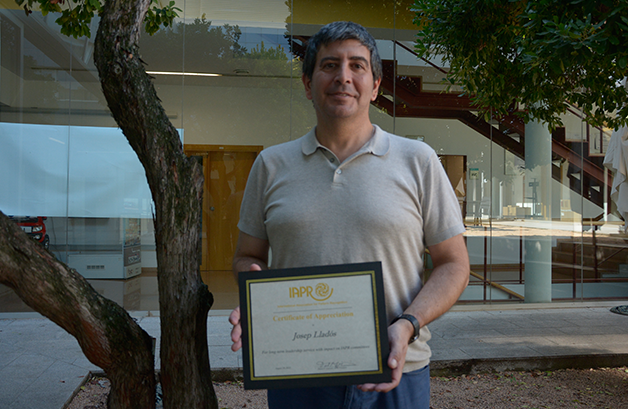 Dr Josep Lladós awarded the IAPR certificate of appreciation
Dr Josep Lladós, CVC Director, has received the IAPR certificate of appreciation for his long-term leadership service with impact on the association's committees.
The International Association for Pattern Recognition (IAPR) is an international association of non-profit, scientific or professional organizations concerned with pattern recognition, computer vision, and image processing in a broad sense. IAPR aims to promote pattern recognition and the allied branches of engineering together with the related arts and sciences, to advance international cooperation in this field to stimulate research, development, and the application of pattern recognition in science and human activity, to further the dissemination and exchange of information and to encourage education. The IAPR Certificate of Appreciation is awarded to people in recognition of their outstanding contributions to the association.
The award was given at the 26th International Conference on Pattern Recognition (the IAPR's flagship conference), which was held in Montréal, Quebec.
Furthermore, Dr Josep Lladós has been appointed Secretary of the IAPR Executive Committee (IAPR ExCo) for the following two years.
Congratulations Josep!