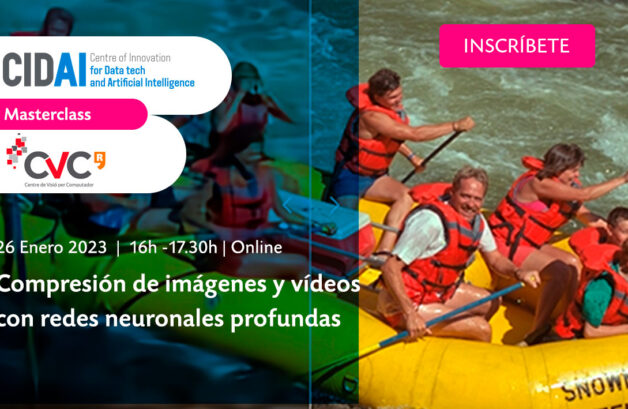 Masterclass CIDAI "Compresión de imágenes y vídeos con redes neuronales profundas" (Luis Herranz, CVC senior researcher)
Masterclass
"Compresión de imágenes y vídeos
con redes neuronales profundas"
26 Enero 2023 | 16h a 17.30h | Online
Nueva clase del CIDAI impartida por nuestro investigador senior (Ramón y Cajal fellow) Luis Herranz. Antes de incorporarse al CVC, trabajó en el Institute of Computing Technology, Chinese Academy of Sciences con Mitsubishi Electric Research and Development, y con la Universidad Autónoma de Madrid. Sus intereses en el campo de la investigación incluyen el aprendizaje profundo aplicado a múltiples temas en visión por computador y multimedia.
Sobre la Masterclass "Compresión de imágenes y vídeos
con redes neuronales profundas":
La codificación visual (i.e compresión de imágenes/vídeos) es una tecnología indispensable en las comunicaciones audiovisuales, y que encontramos en innumerables entornos, desde cámaras, smartphones, navegadores, plataformas como Youtube y Netflix, hasta en el software de videoconferencia que transmitirá la propia masterclass.Recientemente, las técnicas de aprendizaje profundo (deep learning) utilizadas en visión por computador se han empezado a aplicar a compresión visual, dando lugar a métodos que llegan a mejorar los resultados de los formatos tradicionales (e.g. H.264, HEVC).En esta masterclass revisaremos los conceptos básicos de compresión de imagen y vídeo, comparando enfoques tradicionales y los más recientes utilizando deep learning, con especial énfasis en estos últimos.