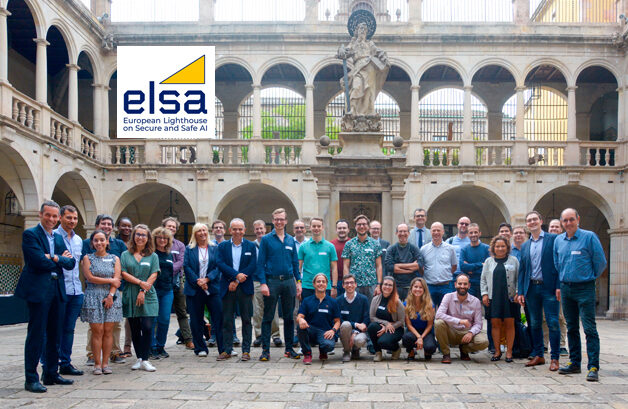 Kick-off meeting of the European Lighthouse on Secure and Safe AI
The Computer Vision Center organised the kick-off meeting of a 10 million euros-EU project in collaboration with CISPA Helmholtz Center for Information Security.
The European Lighthouse on Secure and Safe AI (ELSA), a recently established AI center of excellence composed initially of 26 top research institutions and companies in Europe, met in Barcelona for the first time on October 10-12 at the Institute for Catalan Studies.
The initial three-year project will focus on the development of robust machine learning methods that are compatible with legal and ethical principles as these methods form the basis for most modern artificial intelligence (AI) applications. In line with the general objective, the goal of the meeting was to advance the pressing challenges regarding the safety and security of AI and machine learning (ML).
The research and industry partners of the consortium had the first day of the event to get acquainted and build solid working relations, as well as to discuss the planned activities over the next three years.
The second day had its focus on the six use cases that will be explored in more detail over the course of the ELSA project. Attendees engaged in hands-on workshops focused on the definition of the different use cases.
To achieve its goals, the network is addressing three major challenges: the development of robustness guarantees and certificates, data-secure and robust collaborative learning, and the development of human control mechanisms for the ethical and secure use of AI.
The Computer Vision Center in collaboration with Yooz will work on Document Intelligence aiming to develop methods for training large-scale ML models on private and widely distributed data that protect human privacy. This is important since documents usually contain private information and automated information extraction from documents is a crucial aspect of AI solutions for enterprises.
Lastly, on the closing day of the kick-off event, attendees had the opportunity to learn about the research work of the other participants in a poster session.
📷 Photos taken by CVC and CISPA/L.Jahke
For more information please visit: https://www.elsa-ai.eu/