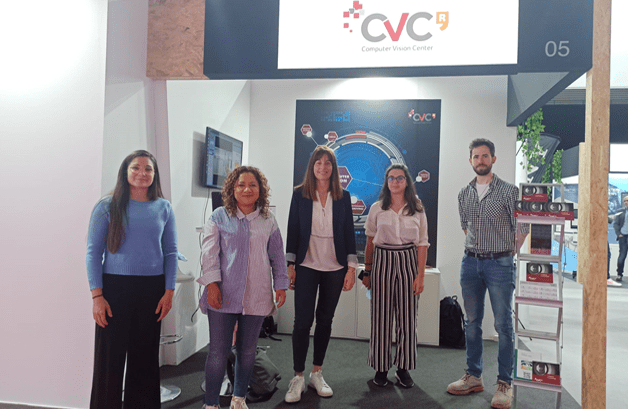 CVC at IoT Solutions World Congress 2022
The Computer Vision Center was present at this year's IoT Solutions World Congress presenting its technologies in Computer Vision for Smart Recycling and Virtual Dressing Rooms. A high number of enterprises and companies visited our stands and technology demonstrations at the Catalan Pavilion.  
The IoT Solutions World Congress is the largest international event dedicated to IoT (Internet of Things) solutions for industry. This year the event took place from the 10th to the 12th of June at Fira de Barcelona and was attended by more than 12.000 visitors and 330 exhibitors from 120 different countries, to find synergies and establish new partnerships.
The CVC attended the event highlighting its latest Computer Vision technologies for IoT. On one hand, at the main stand at the Catalan Government's Pavilion, we presented a demonstration for smart recycling, which attracted the attention of professionals from several sectors, especially from the industrial and environmental sectors. On the other hand, the CVC was also present at the Catalonia AI demo zone with a prototype of Computer Vision for virtual dressing rooms. This technology uses deep learning to segment the parts of the human body and place different virtual garments in the proper position. Both demonstrations were highly successful during the event, giving CVC broad recognition within the IoT industry world.
Furthermore, within the framework of the IoT SWC 2022, it was also held the presentation of the results of the project FEMIoT, celebrated on June 10th. FEMIOT is a consortium of Catalan research centres and universities, co-funded by the European Regional Development Funds (FEDER), to promote transfer and research in the Internet of Things sector. In the presentation, our researcher Dr Julio Jacques Junior presented the module developed by CVC for the automatic detection of pedestrians and cyclists.