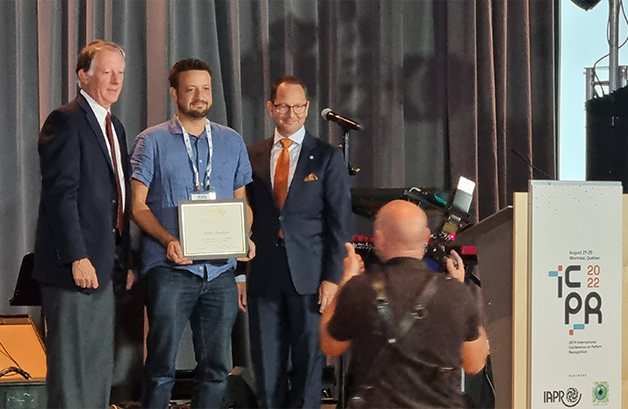 Dr Sergio Escalera receives the IAPR fellow award 2022
Dr Sergio Escalera, CVC and University of Barcelona researcher, has been elected a fellow of the International Association of Pattern Recognition for his contributions to the field of Pattern Recognition and Human Behaviour Analysis.
The International Association for Pattern Recognition (IAPR) is an international association of non-profit, scientific or professional organizations concerned with pattern recognition, computer vision, and image processing in a broad sense. IAPR aims to promote pattern recognition and the allied branches of engineering together with the related arts and sciences, to advance international cooperation in this field to stimulate research, development, and the application of pattern recognition in science and human activity, to further the dissemination and exchange of information and to encourage education.
The award was given on August 24 at the 26th International Conference on Pattern Recognition (the IAPR's flagship conference), which was held in Montréal, Quebec.
Congratulations Sergio!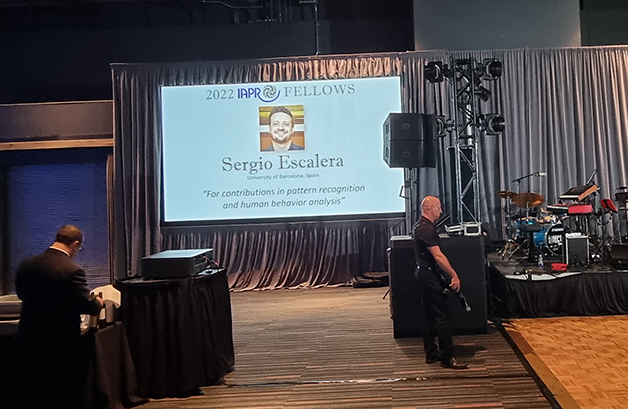 About Dr Sergio Escalera
Sergio Escalera is a Full Professor at the Department of Mathematics and Informatics of the Universitat de Barcelona, where he is the head of the Informatics degree. He leads the Human Behavior Analysis Group. He is a member of the Computer Vision Center and a distinguished Professor at Aalborg University. He has been a visiting professor at TU Delft and Aalborg Universities. He is vice-president of the ChaLearn Challenges in Machine Learning, leading the ChaLearn Looking at People events. He is the co-creator of the Codalab open source platform for challenges organization and co-founder of the NeurIPS competition and Datasets & Benchmarks tracks. He is also a Fellow of ELLIS, the European Laboratory for Learning and Intelligent Systems working within the Human-centric Machine Learning program. He has been chairing and is the current vice-Chair of IAPR TC-12: Multimedia and visual information systems. He participated in several international funded projects and received an Amazon Research Award. He has published more than 300 research papers and participated in the organization of several scientific events. He received a CVPR best paper award nomination and a CVPR outstanding reviewer award. His research interests include inclusive and transparent analysis of humans from visual and multi-modal data.